Make a difference as a traveling med lab tech
As a med-tech or phlebotomist, your keen eye for detail and analysis are what make you so unique. Imagine traveling the country and choosing your very own adventure as a medical traveler. Job transparency is important when making decisions about the healthcare jobs you take. Wouldn't it be great to actually know what you're getting paid before you commit to an assignment? Guess what?! You can actually see your pay packages before you apply.
When you work as a traveling med lab tech, you certainly don't back down from a challenge. You know all about how blood, tissue and fluid samples can properly diagnose and treat patients. Lab tests are ingrained in your routine, but are you ready to test your wanderlust? Working as a medical traveler means you have the benefit of doing the job you love while helping fill the needs of facilities all over the country. You're in high demand, so not only do you get to take control of your career, you can get top dollar for your work while you travel and explore the nation. Browse travel lab jobs now and explore the easiest search functions you'll experience in the industry.
What is a traveling MLT lab tech?
MLT are vital medical team members who perform a variety of tests on blood, tissue, and body fluids that can be used to diagnose and treat patients. If you want to become a medical traveler in this field, you may need certain licenses and certifications, depending on the city you're traveling to. As a traveling MLT lab tech, you:
Perform laboratory tests on patient specimens in the areas of Hematology, Chemistry, Microscopy, Coagulation, Microbiology, Virology and Serology to assist in identifying medical disorders and to monitor ongoing patient therapy
Prepare specimens to be sent to referral laboratories and report test results as they are returned
Obtain blood specimens from patients using standardized capillary or venipuncture procedures
Report patient results, documenting quality control and distribution of data
Check instrument calibration and reagent reactivity by assaying quality control specimens to assure accurate patient test results
Evaluate results of patient testing, quality control and survey testing, and take appropriate action to prevent compromises in patient care
Consult with physicians, nurses and other healthcare professionals concerning requested services and test results
Lab Specialties
You have the power to choose what you want for your career and find the ideal traveling med lab position and location. Your traveling career is a lifestyle and you get to choose where it takes you. Detroit? Seattle? Cleveland? You're in control of where you go. Become a MLT traveler today!
Traveling MLT Locations
When there is less unknown and more transparency as a medical traveler, your MLT travel career is in your hands.
Just grab a map and pick your next destination.
Medical Traveler Compliance & Licensure
Being a traveling MLT is an exciting way to grow your experience, but what if your dream travel assignment is asking for certifications you don't have? Don't fret. You have a team helping you behind the scenes to ensure you get the MLT training you need and the financial assistance to cover the cost of licensing and certifications. Win-Win.
Degrees and Certifications
Licensing and certification can be confusing. It's hard enough keeping up with the requirements of your home state, so how do you get compliant for places you've never been? Degrees and certifications depend on your modality and specialty. Work with compliance experts, your recruiter and the facility, so you have all relevant credentials required for any and all traveling MLT jobs.
Compliance Requirements
Some of your compliance requirements are the same across the board, but there are others that will depend on your specialty in lab.
The three parts of compliance
Occupational health records: Required immunizations and health examinations
Documentation: Tax forms, insurance paperwork, and licenses
Testing: Certifications, online trainings, and workplace safety exams
Testimonials
Honestly, I love this freaking company and every single one of you fantastic whack-a-doodles attached to it! I got to see the aurora borealis light up the sky over the Yukon in Alaska. I watched Aaron Rodgers throw a 30-yard touchdown pass while I was sitting five rows from the field at Lambeau in Wisconsin. I ate an authentic Philly cheese steak while sitting on the steps of the "Rocky" statue in Philadelphia. I've spent countless hours kayaking and floating down river in Maine. I have also had the privilege of befriending some of the greatest people one could ever hope to meet. None of these adventures that I have been on over the past year could have been possible without Fusion, and for that I will be eternally grateful.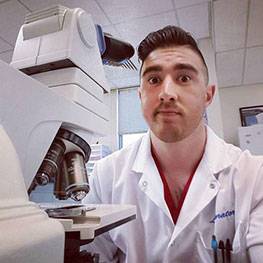 Nick D.
MLT
Traveling with Fusion has been the best. My favorite part is feeling like family — or a really close friend — when you call, even if it isn't your normal recruiter. Traveling in general is so amazing, because you find out what you're capable of and the good in humanity. My first assignment, I was spending Thanksgiving alone, and a coworker I barely knew had me over with her family. If you weren't confident in your ability to start, you will be at the end of your first assignment. You learn so many things from working in so many different facilities, and you get to experience different parts of the country! I love food, so I think it's important that you get to try tons of new foods for each area. It's also great how you walk into a building of strangers, and more times than not, 13 weeks later you walk out with great friends.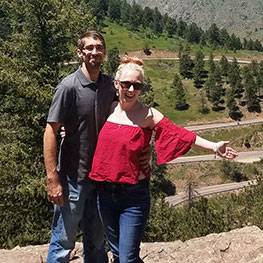 Elizabeth A.
MLT
F.A.Q.s
How much experience do I have to have as a lab traveler?
The common answer used to be two years, but more and more instances have come up where someone has been able to start traveling at 18 months or even at one year if you are a California-licensed CLS.
Do I have to be certified to be a lab traveler?
Again, it's difficult to draw a hard line but for the most part, yes. There is the rare exception where someone with strong experience has been able to stay busy as a traveler, but it is becoming less and less common.
What are the benefits of becoming a traveler?
See the country, compensation, strengthen your résumé, and broaden experience.
Do I have to take assignments back to back?
This is something where you work with your recruiter and determine when you want to take your next assignment. We then look for assignments that work with your start date and start to try and line things up.
What is the interview process like?
With a travel job, it is all typically over the phone because it's not feasible most times to have a face-to-face. It's important to get a good feel for the position by asking some detailed questions on what is important to you so that you have a good idea on what you are stepping into.